Thousands of U.K. Help to Buy Loans Go to the Highest Earners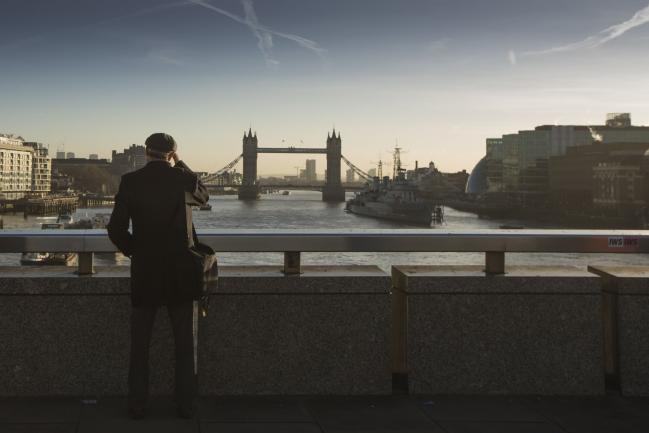 © Bloomberg. A commuter stops on London Bridge to view Tower Bridge in the distance in London, U.K., on Monday, Dec. 18, 2017. U.K. firms wanting workers face the tightest labor market in two decades. In 2011, there were almost six unemployed people for every vacancy; now there are fewer than two, the lowest ratio since records began in 2001.
(Bloomberg) -- Tens of thousands of Britons who bought homes using Help to Buy could have easily done so without the support of the interest-free government loans, according to the U.K. public spending watchdog.
The government has made around 211,000 loans amounting to 11.7 billion pounds ($15 billion) since the program was introduced in April 2013 in an effort to make home ownership more attainable, the National Audit Office said in a report published Thursday.
But a third of the loans went to buyers who could have purchased a property they wanted without help, and in around 4% of cases household incomes exceeded 100,000 pounds a year.
The findings are likely to fuel criticism that Help to Buy is blunt instrument that has subsidized high earners and boosted the profits of the big house-building firms.
Under the program, recipients get a 20% loan, with no interest charged for the first five years, allowing them to buy a property of up to 600,000 pounds with a deposit of as little as 5%. In London, where house prices are double the national average, the loans cover up to 40% of the purchase price.
Affordable Homes
The government estimates Help to Buy has aided almost 80,000 households who could not have bought a property without the subsidy, though take-up has been low in the least-affordable areas. With the program due to end in 2023, the NAO warned that care will be needed if the government is to meet its target of creating 300,000 homes a year from the mid-2020s.
In a separate report, the London Assembly praised Mayor Sadiq Khan for delivering the highest number of affordable housing starts in almost a decade last year but said that too few homes are being offered at the deepest discounts to those on low incomes.
"Government-imposed funding conditions mean that the majority of new starts are for intermediate tenures, despite the bulk of need being for homes at social rent levels," said Tom Copley, chair of the London Assembly Housing Committee. "There is room for the mayor to go further."
Original Article