Comic: The Bubble In Beyond Meat Is Starting To Look Beyond Ridiculous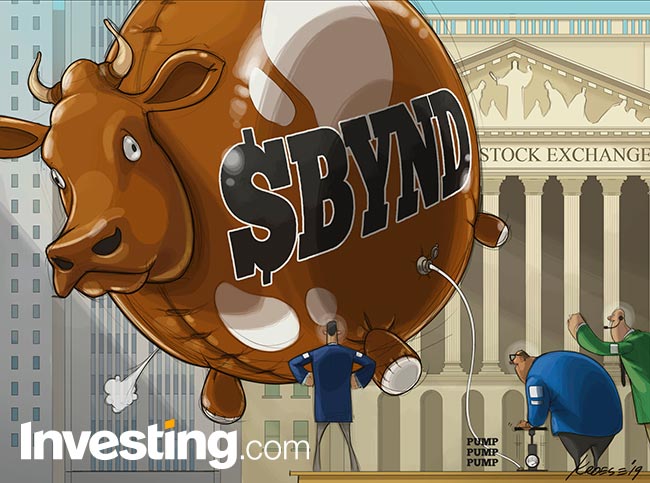 Investing.com - Beyond Meat (NASDAQ:BYND) shares have soared nearly 500% since the alternative-meat producer went public in May, giving it a nearly $8 billion valuation and leading some to liken the euphoric rally to a bubble.
The El Segundo, California-based company's stock set an all-time high of $186.43 on June 10, after recently being priced at just $25 for its initial public offering on May 1.
It jumped more than 12% on Wednesday, closing at $141.97, amid expectations of wider acceptance of its Beyond Burger and more deals with fast-food chains and restaurants.
The plant-based meat company reported quarterly earnings for the first time since its IPO last week, fueling optimism among investors when it forecast sales would exceed $210 million this year, a more than 100% increase from the $88 million seen last year.
The rosier outlook was accompanied by sizzling first-quarter results. The company reported a fiscal first-quarter loss of 14 cents a share, a penny narrower than the 15 cents a share analysts were expecting, according to forecasts compiled by Investing.com.
Despite the upbeat outlook, critics say Beyond Meat's market value isn't justified given that the company has yet to turn a profit.
Analysts are starting to back away from Beyond Meat, with JPMorgan (NYSE:JPM) and Bernstein both downgrading the stock this week on valuation concerns as competition in the alternative-meat industry heats up.
Rival Impossible Foods recently announced an expansion with Burger King, while food giants like Tyson Foods (NYSE:TSN) and Nestle (SIX:NESN) are reportedly working on their own faux-meat products.
To see more of Investing.com's weekly comics, visit: http://www.investing.com/analysis/comics
-- Reuters contributed to this report
Original Article